Vega del CAstillo
Vineyards
The quality and diversity of the Vega del Castillo wines are a result of painstaking work and the richness of our soils. We have over 400 hectares in the heart of Navarre, in different locations between the foothills of the Pyrennees and the upper plains of the Ebro valley, the Ribera Alta. This broad range of soils allows us to grow different grape varieties which, together with the diversity of our climate give our wines a character that tells the story of the Midlands of Navarre.
The climatic conditions, warm but with an influence from the Pyrenees, make our area one of the best for growing vines and producing excellent quality grapes.
A yearly rainfall of 600mm, cold winters and and warm summers, and a marked contrast intemperature between day and night, mean our grapes ripen slowly and gain the ideal aroma, sugar levels and acidity needed to make fresh, balanced and surprising wines.
The main distinguishing feature of Vega del Castillo is the broad diversity of soils, sunning both east to west -across the various terraces of the Valley of the Cidacos river- and south to north -across the great plain of the Navarre Midlands.
Within this range of soils we have dark petrocalcic soils, sandy soils, and soils with varying percentages of pebbles which reflect sunlight. This variety allows us to stagger grape harvesting to ensure the grapes have achieved their optimal ripeness levels.
This also gives our wines complexity: depth, aroma … The different soils se complement each other and help ourwines tell us about the NAVARRE MIDLANDS.
It is like a great colour palette from which our oenologist can choose the very best pigments for making beautiful wines.
Varietals
RED GRENACHE
Grenache grapes have been one of the red grape varieties most widely grown in Spain for a long time. It gives excellent rosé, highly aromatic, and very fresh and floral. Grape characteristics: medium to large, very compact bunches, with fairly uniform grapes with a short stem.
Grape Characteristics::
The grapes are medium-sized, spherical and with a fine skin and soft and very juicy pulp.
Organoleptic Characteristics:
Grenache is an appropriate variety for high alcoholic content wines, with a deep color, golden red with hints of raspberries and blackberries, especially in younger wines.
Grenache yields rounded, friendly wines, with a great aromatic intensity, and which take well to maturing.
In their younger bottlings these wines maintain their attractive colour, and their aromas of ripe fruit, apples and light hins of minerals.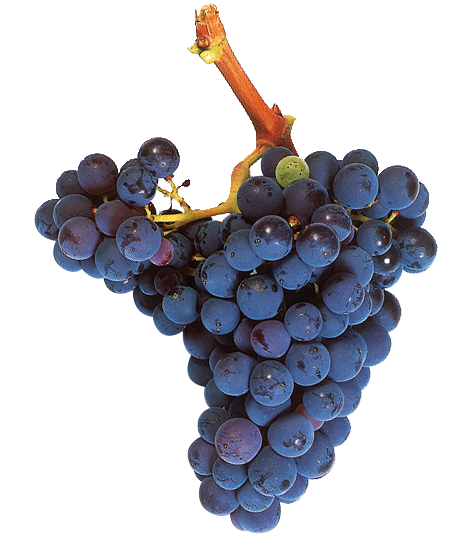 TEMPRANILLO
Tempranillo is one of our most important native grape varieties. It yields wines which are excellent for maturation, with a good body, fine quality, intensity and aromatic complexity.
Grape characteristics:
Large and compact bunches, uniform in size and berry colour and with a medium-sized stem.
Grapes are medium-to-large in size, with a cricular profile and a thick skin. The pulp is not pigmented; it is soft and very juicy.
Organoleptic characteristics:
The juice from the grapes is an intense red colour, with a low acidity and tannin content and, therefore, yelds smooth red wines which are light but very aromatic and fruity. These wines are full-bodied, low in acidity and with highly structured tannins. Their value is increased by maturation in oak barrels, with the addition of hints of vanilla, chocolate and spices, yielding excellent results.
MERLOT
This is the most widely used grape in the world. It originated in the south-west of France.  Classy wines are obtained from this variety, which are appreciated throughout the world.
Grape Characteristics:
Merlot grows in medium-to-small sized bunches, with a medium compactness and shaped like an elongated cone. Grapes have a medium-length stem.
The berries are small, slightly elliptical and with a thick skin and colourless flesh which is juicy and has teh characteristic flavour of the varietal.
Organoleptic Characteristics:
Merlot juice has a high sugar content, low acidity and a very deep and dark red colour. The tannin content is low and they are very smooth.
Merlot wines are noted for their spicy and fruity taste, with fruits of the forest and raisins with hints of nuts.
Fine, elegant and velvety wines come from Merlot. They are easy to drink and do not require a long time ageing in a barrel in order to show their great potential.
CABERNET SAUVIGNON
This is one of the best-known grape varieties in the world, originating from the area of Bordeaux. It is vonsidered a Premium variety of the highest quality.
Grape Characteristics:
These grapes grow in very small, medium-compactness bunches, with cone-shaped and very uniform berries. The stems are short and not lignified.
The berries are small and circular witha blueish and very dark hue. Their skin is very thick and the pul pis lightly coloured and very juicy.
Organoleptic Characteristics:
The juice from Cabernet Sauvignon grapes is deep in color, dark and very vivid with aromas of redcurrants, cherries, plums and herbs. If the wines are aged in barrels, aromas of chocolate and tobacco appear.
Cabernet Sauvignon wines have a very interesting tannic structure and are very suitable for ageing.
Ageing brings on a deep, velvety aroma, great on the palate and with an excellent structure.
VIURA
This variety has become one of the best-respected grapes, with the greatest potential in Spain. Viura wines are extraordinarily fresh when they are young.
Grape Characteristics:
Very large and compact bunches with a short stem.
Berries range in size from médium to large, have a round shape and are very uniform. Their skin is thick.
Organoleptic Characteristics:
The juice is pale and bright with greenish tinges round the edges. Its aroma is floral with elegant notes of white fruit.
Viura wines are light, agreeable and witha good balance between acidity and sweetness.
WHITE GRENACHE
This variety originated in the north of Spain and may come from a mutation of Red Grenache, as it shares ampelographic and viticulture characteristics.
Grape Characteristics:
Medium to small sized, compact bunches, with a cylinder or short cone shape and a very short stem.
.
Berries are medium sized, with an elliptic shape and a yellow-greenish colour and a thin skin.
Organoleptic Characteristics:
The juice is a light yellow colour with greenish reflections and a good aromatic intensity with floral notes and white and tropical fruit.
It yields light wines, well structured, plumy and with a certain persistence in the mouth.
CHARDONNAY
This is one of the best-known grape varieties in the world, originating from the French region of the Borgogne. It yields monovarietal wines which are very well appreciated for their elegance and finesse.
Grape Characteristics:
Small-sized bunches, with a medium to high compactness, a characteristic shae and a very short stem.
The berries are small, usually very uniform, round, with a thick skin and unpigented bulp, soft and very juicy.
Organoleptic Characteristics:
A pale-yellow juice with golden and greenish hues. They present a harmony of fruit aromas amongst which citrus and tropical notes are noticeable.
This grape yields fine and distinguished wines, with the right acidity levels and sweet flavours that balance ideally their fruity notes.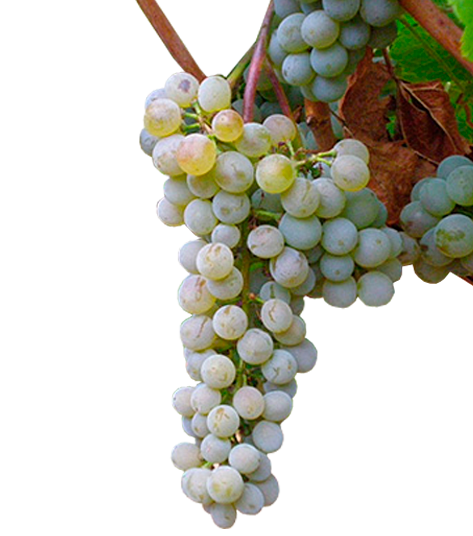 MOSCATEL
This is one of the oldest grapes grown in Spain, with an unknown origin, although it may have come from Greece or Turkey. It yealds excellent sweet wines with a great aromatic power.
Grape Characteristics:
Small to very small-sized bunches, very compact and uniform in the sice of the berries, which are small, rounded and with a consistent and very juicy flesh.
Organoleptic Characteristics:
The juice from Moscatel grapes is a deep and intense yellow, with a strong floral aroma, very typical of this variety.
It yields sweet wines with a high alcohol content, a very balanced acidity and an intense, potent and delicate taste.